Whimsical Woodland Bridal Shoot
Sublime headpieces, romantic dresses and breath-taking woodland delight.
The inspiration for this styled photo-shoot came from my new collection of headpieces and jewellery and from the wonderful dresses provided by Laura at Ribbons & Lace Bridal Boutique.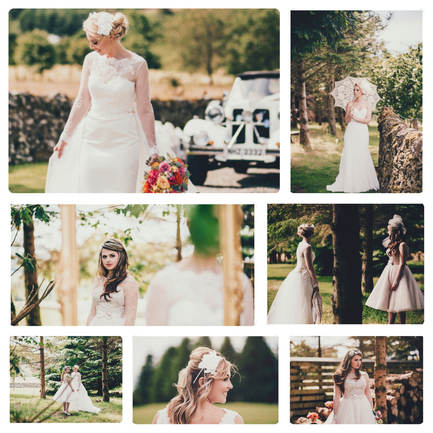 We wanted a relaxed and fun shoot where we could collaborate to make beautiful images that would showcase our collective creativity. After the headpieces, jewellery and dresses were chosen, I worked with Jan & Amy from Lace Buds on all the little details that would tie it all together.
Once the shoot day arrived, we headed to Ardoch, our amazing location for the day. What a breath-taking venue it is, at every turn you are left speechless not just by the views of Loch Lomond, but also by the venue itself. I'm sure we could all have stayed there forever, if they would let us!
So we got to work, Emma from Pinup Pro worked her magic on the beautiful models Abbie McAlpine, Nicki MacDonald and Kimberley Conn. Jan, Susan, Laura were busy styling the venue and models and the amazing John Elphinstone Stirling was capturing every little detail for you to enjoy.
Hope you like it.
Susan x
All Jewellery & Hair Accessories were designed and made by myself.
Photography, John Elphinstone Stirling – www.JohnElphinstoneStirling.com
Bridal Gowns, Ribbons & Lace Bridal Boutique – www.ribbonsandlaceboutique.co.uk
Cake, Baked by Mike – www.facebook.com/bakedbymike
Car, Carrs of LochLomond – www.carrslochlomond.co.uk
Flowers, Lace Buds – www.Lacebuds.com
Hair & Makeup, Pinup Pro – www.Pinuppro.co.uk
Umbrellas, Brolly Bucket – www.brollybucket.com
Venue, Ardoch – www.Ardoch-Scotland.com